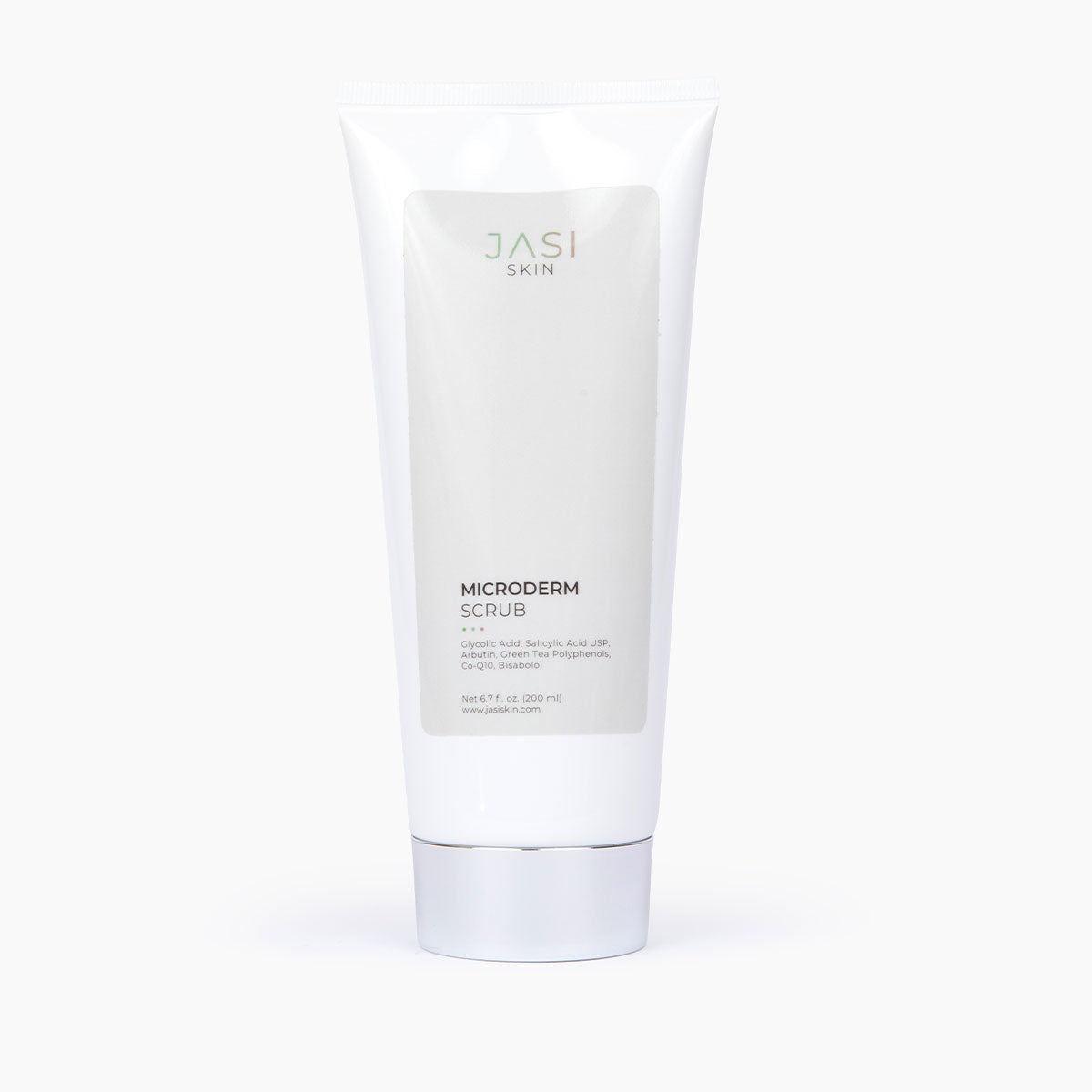 Microderm Scrub
This brightening scrub with bio-friendly exfoliants removes dull, dead skin cells and excess oils to reveal healthier, younger looking skin.
Glycolic acid helps gently slough off dull, damaged skin to improve radiance
Salicylic acid helps unclog and minimize the look of pores Natural micro exfoliants remove dead skin cells and excess oils, effectively polishing the skin
Arbutin, a natural skin brightener, promotes a brighter, more even skin tone
Antioxidant blend soothes and protects skin from free radical damage
90% GREEN TEA POLYPHENOLS
Provide the most comprehensive antioxidant effects, reducing the risk of irritation, calming skin redness, and protecting against free radical damage.
RESVERATROL
Red wine contains an extremely potent antioxidant recognized for its anti-aging benefits. Aids in the prevention of free radical damage and the creation of new collagen.
CAFFEINE USP
Increases overall antioxidant activity while assisting in the reduction of redness and irritation.
HYALURONIC ACID
Natural moisturizing substance that helps to soften skin and seal in moisture.
Directions:
Shake Well. Apply a moderate amount to dry skin and massage gently into skin. Wet hands and continue to gently massage in a circular motion for 1 to 2 minutes. Rinse off thoroughly with lukewarm water and towel dry. Recommended usage is 2 to 3 times per week. Follow with Recovery Serum and HydroGlow Moisturizer.
Ingredients:
Purified Water, Microcrystalline Cellulose, Cellulose, Sodium Lauroyl Methyl Isethionate, Glycolic Acid, Cocamidopropyl Betaine, Ammonium Hydroxide, Xanthan Gum, Salicylic Acid
Great Cleanser!
After using the Jasi Skin Microderm Scrub, I noticed an immediate improvement in the texture and tone of my skin. It looked brighter and more radiant, and my skincare products seemed to absorb better. Even my makeup applied more smoothly. I appreciate that this scrub is suitable for all skin types, as it didn't cause any irritation or dryness.
This works so well - one wash in!
This product WORKS. I noticed brighter skin after just one use. It's so gentle, yet it exfoliates to reveal brighter skin. I was so surprised at how fast it worked. It smells amazing, it feels great, it feels like you're getting an at-home facial with each use. I'm obsessed. You need this!