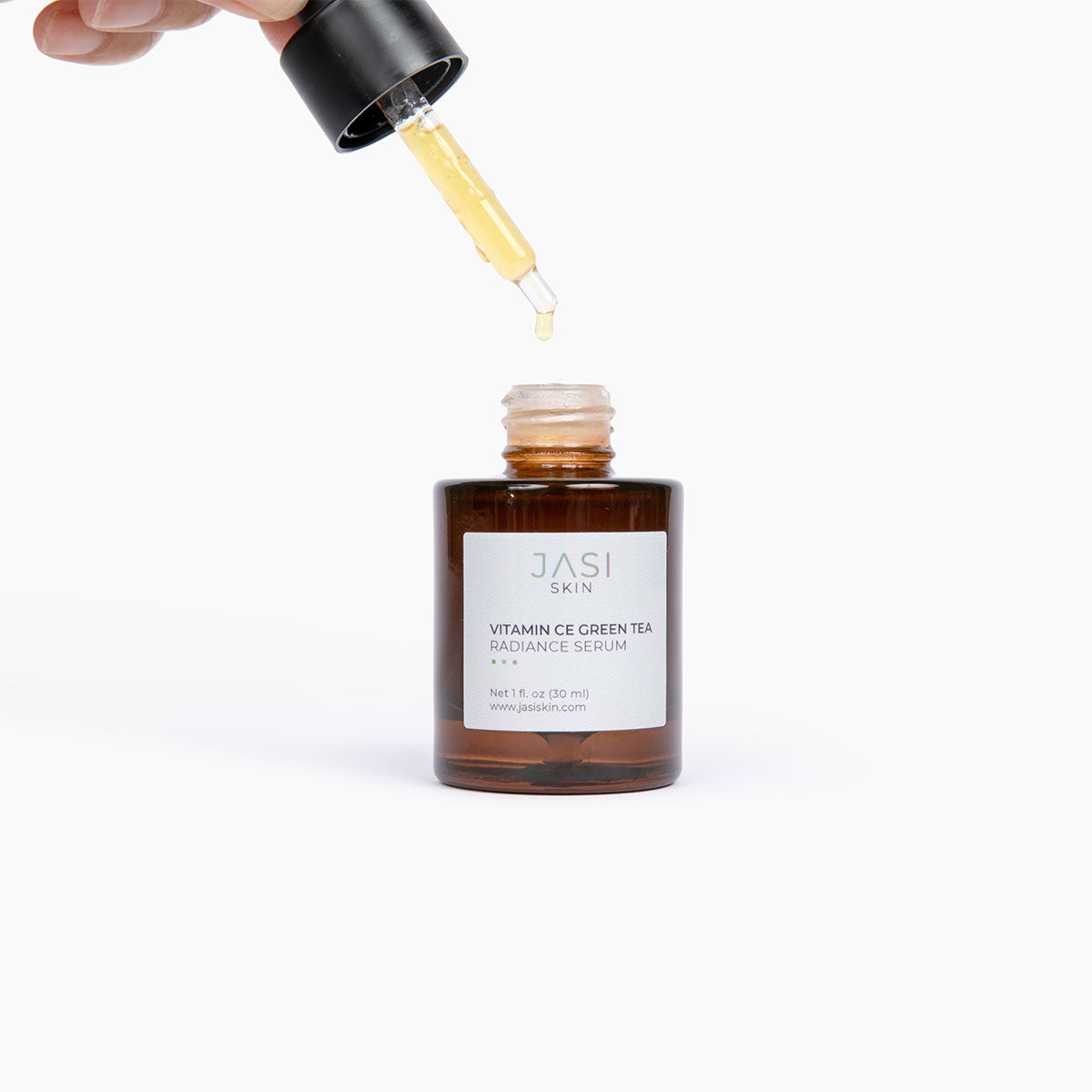 Vitamin CE Green Tea Radiance Serum
High Potency Vitamin C Serum designed to improve the look of wrinkles, brighten skin's complexion and support the microbiome, while a protective antioxidant system guards against free radical damage and environmental aggressors. Its water-based texture works on all skin types, including normal to oily skin types. Results have been reported to be visible as early as 4 weeks, with the greatest effects reported at 12 weeks.
20% Vitamin C complex (L-ascorbic Acid + Tetrahexyldecyl Ascorbate) helps neutralize free radicals, protecting skin against oxidative stress while addressing the visible signs of aging: lines, wrinkles, loss of volume, dullness and discoloration
Antioxidants (Green Tea Polyphenols, Apigenin, Erogothioneine, Vitamin E) supports skin's antioxidant defense system by shutting down the most free radical pathways, protecting skin from environmental free radical damage
Vitamin E (tocopherol) nourishes and soothes the skin while neutralizing free radicals
Supports the skin's microbiome, leaving natural skin flora intact
Water and lipid soluble antioxidants
Directions:
On clean skin, dispense 3-4 drops for full face and massage in gently with fingertips once or twice daily. Follow with the Recovery Serum for an extra hydration boost. Must apply Crystal Clear Mineral SPF daily and reapply.
Love this!
The glow from this is REAL! My skin felt so dull after being out in the sun this summer. I added this to my AM skin care and it has helped reduce the sun spots. My skin is literally GLOWING!!!
Okay this a must have for everyone! Love that its anti-aging, helps with pigmentation and protects your skin from free radicals. It's helped fade acne pigmentation and with Resurface RX has prevented more pigmentation.
Amazing results!!
I love this line and I've tried all of high end brands. No comparison to this! The vitamin C is the best and it was all I used this summer. Didn't wear make up because I didn't have to! I got a lot of compliments on my skin.
Best Vitamin C ever!!!
I love this vitamin C serum. The texture is wonderful and glides on my skin. It gives me the perfect glow! I'm already on my 3rd bottle